Stocks - Europe Edges Higher; DAX Outperforms
29 June 2020, 07: 50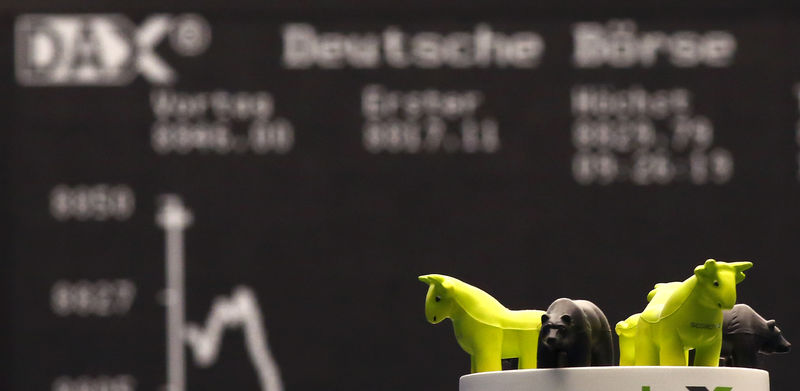 At 3:35 AM ET (0735 GMT), the DAX in Germany traded 0.5% higher, France's CAC 40 rose 0.1%, the U.K.'s FTSE index was flat.
The profits of Chinese industrial enterprises rebounded in May for the first time since November 2019, data confirmed Sunday, signaling the world's second-largest economy is continuing to recover from the coronavirus shutdowns.
This is important news for Europe, and particularly Germany, as China is one of the largest export markets for European goods.
German Chancellor Angela Merkel is set to host French President Emmanuel Macron for talks later Monday. The two leaders are likely to discuss how to get agreement on the recovery fund for the region given opposition to the Franco-German inspired plan to distribute the funds to hard hit areas as(repayable) loans, or as grants. The International Monetary Fund weighed into the debate, with Chief Economist Gita Gopinath saying in Der Spiegel that a substantial part of the European Union's package of measures must consist of grants.
Still, worries remain over the spread of the coronavirus, with the World Health Organization reporting almost 190,000 new cases for the 24-hour period through early Sunday, a new high.
This means the total number of global Covid-19 cases has now topped the 10 million mark, with more than 500,000 deaths recorded globally. Despite the spite in infection numbers, mortality rates are much lower than during the first wave of the pandemic, mainly because the new infections have been largely confined to younger people.
The EU-U.K. free trade negotiations are also scheduled to restart this week in Brussels, with time running out and few signs of any progress made in the negotiations over the future relationship.
Economic data centers around the European economic confidence indicators for June, due at 5 AM ET (0900 GMT), along with preliminary inflation data for June from Germany and Spain, and consumer and mortgage lending from the U.K.
In corporate news, Airbus (PA:AIR) stock climbed 1.3% despite CEO Guillaume Faury stating the aircraft manufacturer is assuming a 40% drop in production over the next two years due to the coronavirus crisis. He added that the company intends to announce possible job cuts before the end of July, thus cutting costs.
Oil prices fell back Monday, amid worries that the increase in the number of global Covid-19 cases which has led some countries to resume partial lockdowns could hurt fuel demand. Years of low natural gas prices finally forced Chesapeake Energy (NYSE:CHK) to seek bankruptcy protection in recent years over the weekend.
At 3:35 AM ET, U.S. crude futures traded 1.6% lower at $37.87 a barrel. The international benchmark Brent contract fell 1.4% to $40.34.
Elsewhere, gold futures rose 0.1% to $1,782.05/oz, while EUR/USD traded at 1.1248, up 0.3%.